Chart All's reservation charts and planning charts are perfect for:
Hotel reservation charts
Motel reservation charts
Time share booking
Auto truck rentals and leasing
Maintenance schedules
Yacht charters
Housing and condo builders
Sales charts and more!
Tape Chart Reservation Systems
Our charts allow you to track reservations on a one or three month basis. All charts are printed on treated paper. This makes it possible to put on and take off chart tape without tearing the chart.
Three month chart system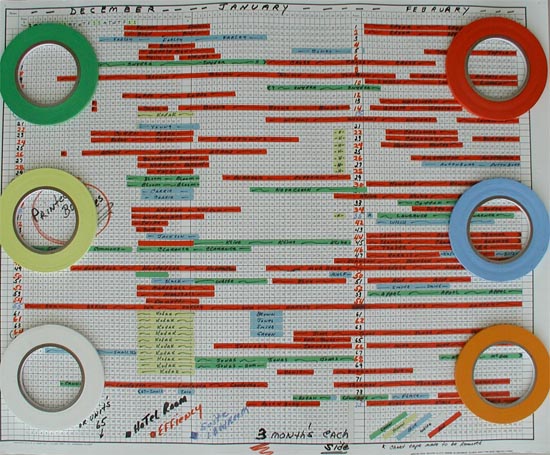 Dimensions: 27" width x 22" height
Print: both sides
Timespan: 6 months
Capacity: 65 units
One month chart system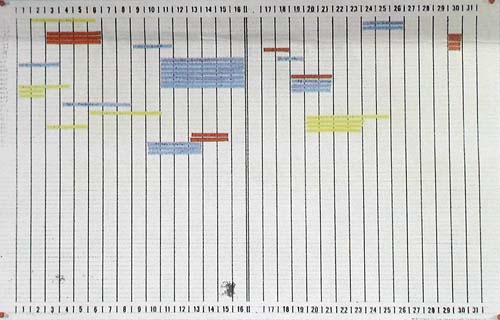 Dimensions: 35" width x 22" height
Print: both sides
Timespan: 2 months
Capacity: 64 units
How To Use Our Charts
The three-month chart is printed on both sides to give you a total of six months for 65 units. How many units you have will determing the amount of charts needed to plan one month or one year. Across the top of the chart, you can header the months of the year, and down the side you can list your unit numbers. Units of different layouts can be indicated by using different colored pens when you originally plan out your chart. Example: Efficiency - Red Ink / Ocean Front - Blue Ink / Suites - Green Ink / Hotel Rooms - Black Ink, etc. Small operations at times can get a full year or more on one chart.
The one-month chart is printed on both sides to give you a total of two months for 64 units. The spaces provided for each day are large enough to print the name of the party even if it is an overnite stay. Good visual chart for weekenders, holidays, short seasons when a full year is not required. Charting sales for the months, be it auto, homes, condos, rental, etc. Use your imagination. A chart can tell you everything or nothing. It is up to you what information and how much information to be put on the charts best suits your needs.
To reserve a unit, apply the colored tape to the squares reserved covering 1/2 the day of arrival and extend the tape to 1/2 the day of departure. Write the name of the party on the tape, using a good permanent marker. Pilot SC-UF pens have been found to be one of the best for marking "Chart Tape." The tape comes in rolls of red, green, blue, yellow, orange, and white. The colors you choose can indicate whatever you wish.
Example: To denote the deposit on room, walk-in, group, do not move, inquiry, former guest, etc. If a person must be moved to another unit during his or her stay, it can be indicated on the tape. Example: Smith arrives on the 10th, however on the 15th he will be moved from Room 214 to 107 for the balance of his stay. On the chart it will show as Room 214 Smith 107 > then on Room 107 it will show < 214 Smith for the balance of his or her stay. Again use your imagination and use the chart as best suits your needs. Once all the reservations are charted, the vacant space shows the exact date that a room or site is available. A quick glance shows saleable space. To make a change, just remove the tape and reapply it on the desired space. No erasures or rewriting is necessary. Since the tape does not change size, there is no chance of error when switching accomodations. The chart can become a permanent record, or the tape removed and the chart used over again. Don't lose precious units during your peak times, chart it with CHART ALL.
More Information
For more information including prices contact us by telephone or e-mail.
Telepone: 1-954-491-8183
E-mail: chartallco@aol.com
Mailing address:
Chart All Co.
2221 NW 41st Terrace
Coconut Creek, FL 33066